About the Author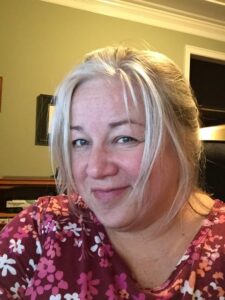 Hello and Welcome to my About the Author page. I'm Ellen Davis, owner of Key Book Designs. Ten years ago, I wrote my first book Fight Cancer with a Ketogenic Diet, and found out traditional publishing contracts were not written with an author's best interests in mind.  Silly me, I thought that the majority of my book sale profits should go to my bank account! 
That decision to keep my book profits started me on a journey to learn how to self-publish, and let me tell you, it's been interesting and at times, frustrating, but ultimately, I'm glad I went with publishing my own books.
My journey started with joining several independent author groups and studying the steps that others had used to publish their own books.  It took me a while to figure it all out, but with my background in IT and graphic design, I discovered I was already outfitted with the tools and software knowledge I needed to learn how to design, typeset, and create a cover for my books. The learning curve was steep, but I finally was able to publish four books on my own.  At first, I sold them directly from my website as PDF files. This worked great because I already had a strong platform website. But I decided a few years down the road to also offer my books in print on the major online print-on-demand services (Ingram Spark, Amazon etc.) to have access to a larger audience. And today, I'm very glad I did that.
So here I am, having mastered the e-book and print-on-demand book publishing process, and the best part is that I can now help other authors publish their books. My business goal is to help authors get a finished book to market, so that they can build independent streams of income for themselves.  My specific skills include the technical aspects of book interior design and typesetting, e-book creation and cover graphics.  I work in Adobe Indesign for the bulk of what I do, and use a variety of other graphic design programs for specific tasks. In addition, I can provide guidance and answer questions you may have about the self-publishing process, since I've been there and done that, so to speak.
My rates are reasonable because my books provide my income, and it's nice to be in a position to help other independent authors who are starting out. In other words, I've set my rates a little lower than many other book design firms because I like to help new authors get published and become independent.
So, if you are in need of someone to help you reach the publishing finish line, give me a shout. I can help. Just click on my contact form link to the right and I'll get back to you within 24-48 hours.
I invite you to visit my other websites for more information about me:
---
---