Self Publishing a Book: The Detailed View
Self publishing a book in 100 easy steps! That's what I thought when I first decided I was going to self publish. I started by researching the topic. After several days of reading blogs and various posts about book formatting, I learned about various book design elements, but wasn't sure how to put it all together.
I finally figured it out and after publishing four books of my own, and many others for my colleagues, I feel like I have a pretty good grasp of how to design a book that looks professional in both print and electronic versions.
Formatting a book includes setting up the interior look and feel of the book and creating a compelling design for the book cover as well.  The steps I learned for how to design a book are as follows, and I'll start with book platforms and versions.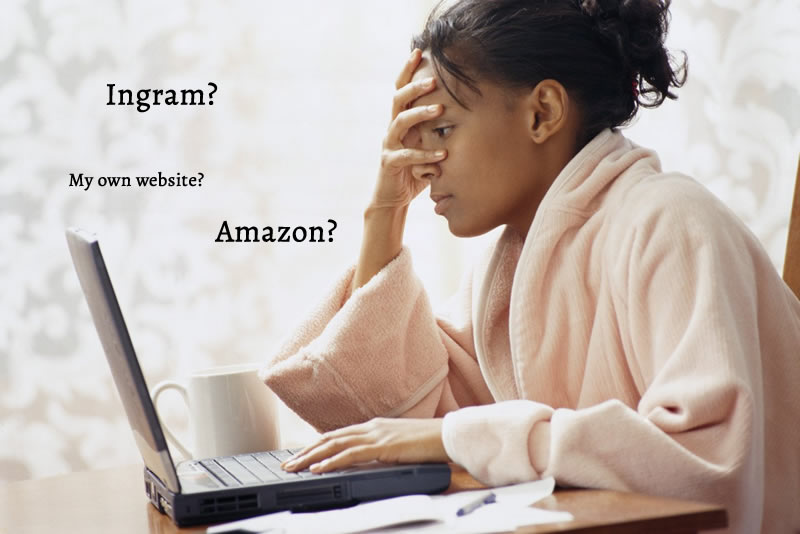 Sales Platforms and Versions

The first decision when self publishing your book is to choose the platforms and versions you want to offer.  Choosing to offer your book on Amazon, or Ingram Spark or any of the other "print on demand" companies will influence some of your book elements.
If you want to offer a printed book, you'll need to decide whether you want to print your book in color or black and white. Choosing color will increase the printing costs, which means your royalty from the sale of the book will be lower.  Check out the print on demand process page for details.
You'll also need an ISBN for your print book. You can learn more about ISBNs on my ISBN page.

Offering an E-book
If you want to also offer an ebook, you'll need to decide if you want the ebook to look just like the print book, or if you are okay with it looking different.  The difference will be in the ebook formatting. 

Reflowable designs allow ebook readers to change the look of the book as font size choices change.  If you go with a fixed ebook format, it will look just like the print version, but the reader won't be able to change the font or font size. There's more info on ebooks here.
You can also offer a PDF of your book from your own website. The best part to this strategy is that you get to keep almost all of the royalty from the sale of the book.
Self Publishing a Book: Part 2
Once you decide on platforms and versions, the next step is to decide on which book design elements you want to include.

---
---
Details of Self Publishing: Part 1