Create a Book Website
Ready to create a book website? Now that you have information on the benefits of a website for a book, the next step is to build it, or have someone else build it. Keep in mind that if you have it built by someone else, you'll need to maintain an ongoing relationship with that person so that changes can be made. This is doable as there are many website maintenance companies out there, but if you have the time and interest, building a website might be a nice new skill to cultivate.
Choosing a Domain Name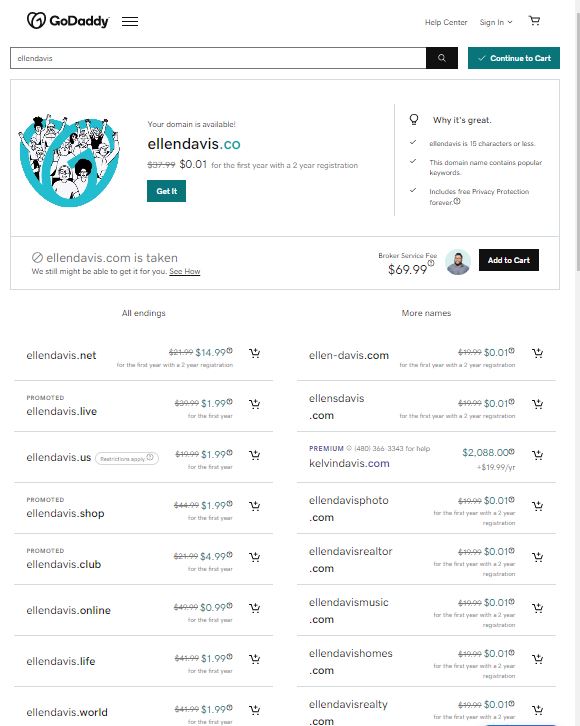 Example of a Domain Name Search Tool
Websites start with a domain name (for example, keybookdesign.com). Domains have to be registered with an internet registrar and they must be unique.  In other words, there can't be two "keybookdesign.com" websites. Most common domain names have already been taken, but if you have an unusual name, it may still be available as a domain name.  For instance, I just checked and "ruthpatagonia.com" is still available. : )  You can research domains on domain registrar websites such as godaddy.com and hostgator.com.
Once a domain name is researched and chosen, it will need to be "hosted" by a website hosting company such as sitesell.com, the host for my website.  Hosting basically means that the host will store your website pages on its servers which are connected to the internet. 
The hosting company can also act as a domain registrar.  There are many, many different website hosting companies and in my opinion, it's best to choose one that will help you build and maintain your website easily.  (Tip: Ask the company you are considering if they install SSL certificates for you.  If they don't, avoid them.)
There are also different website apps that can be used to build a website. You have heard of Wordpress or Wix.  These are applications which can be used to build a website on a hosting platform.
Your domain can be your authorname.com but there are many other suffixes besides ".com".  You could choose authorname.online or authorname.world or really, anything you like as long as it hasn't already been taken. 
Tip: if you just type in authorname in the search box, the domain registrar will bring back all the possible domain names (and a few more) that are available.

What You Need to Create a Book Website
To create a book website, you'll need to gather some information and electronic pictures first.  If someone else is building it, there may be other elements mentioned, but this short list of what you'll need should get it started:
A picture of yourself, preferably professionally created.
Your bio and other information you want to share with your readers
An About the Author page
A media contact page, plus a contact page for your readers to use.
Book descriptions
Pictures of your book covers
Links to excerpts of each book (optional)
Your website domain name
Links to your books on your selling platform, or payment buttons for each book that you are selling from your website as a PDF (see below).

A blog mechanism if you want to connect with your readers personally
Selling on a Platform vs Your Website
On my ketogenic-diet-resource.com website, I sell a PDF electronic version of my books and I also include links to the print versions on Amazon.  For the PDF versions, I set the website page up so people can buy the book using Paypal. I use a company called e-Junkie to "serve" the purchased book file automatically once a transaction is complete. 
The beauty of this is that customers can (and have) purchased my books from all over the world, at all times of the day.  The process works automatically without me having to get involved in each transaction.  Paypal takes a tiny percentage as a transaction fee, and e-junkie only costs $5 a month.  At the end of month, Paypal sends me my royalty payments for these sales.
Paypal and e-Junkie work great for me, but there are many other payment and file server companies you can use to process sales transactions as you create a book website for yourself.
I hope this information is helpful to you.  I built and manage all of my own websites, and I would love to help you build yours.  Just give me a shout. 
---
---